I know what you're thinking, surely they are not faking one of the most common crystals now? Well yes and no, we all know that blue fluorite has a higher value, well lately there has been a whole new level of blue fluorite hitting the market.  This blue fluorite is in fact fluorite, however it has been treated with gamma rays to turn our "normal" fluorite into this deep intense almost glass looking blue! Of course we know there are crystals on the market that are often treated to intensify the colour, and often it can happen in nature too,...
---
• fake crystals • genuine crystals • malachite
This deep and beautiful stone is mined from several parts of the world, the main areas being Africa, Russia and Mexico. It is a stone of higher value on the market, so it comes as no surprise that it is also one that is heavily faked! I've seen so many fakes online that it can really put you off buying it all together out of fear you are tricked, especially when buying online. Even as a seller of crystals for 7 years, there's certain crystals that I avoided stocking in my earlier years, because even I would worry that I'd be bringing...
---
• crystals • crystals for love • pink opal • rose quartz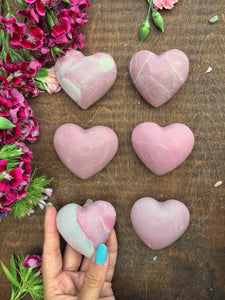 We all want to find love in life, but first we all need to learn to embrace self love, because if we can't love ourselves, its hard to let someone else love you. And of course like everything, there's a crystal for that!  It's no surprise that pink crystals run the theme of love and here are a few of my favourites-  The most obvious has to be rose quartz, its the stone of unconditional love, and often the stone people turn to when looking for love, but of course unconditional love also applies to yourself, and rose quartz is...
---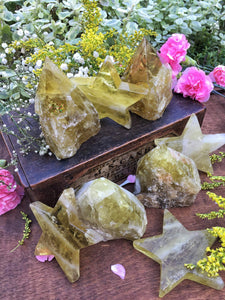 You've probably seen cute little pieces of citrine in gift or museum shops, white with a tangerine tip. You may also have a citrine cluster, white with beautiful deep rust coloured points, but did you know this was actually amethyst? Okay, so now you're thinking, what?! EVERYONE knows amethyst is purple right?, you're right it is! but once they bake and heat that amethyst up that purple turns to orange!  These necklaces I stocked a few years ago are indeed baked amethyst ( and were sold as such), these were once amethyst, heated to turn them orange. Now many crystals have...
---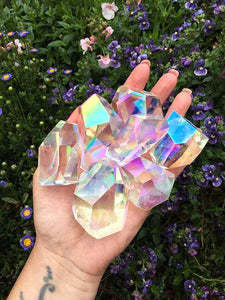 Love them or hate them? Aura crystals really are something else! with that irridescent sheen they really catch the eye. But many people aren't quite sure what "aura" actually is.  Aura is not a natural process, its a coating added to a real crystal stone. The aura coating is created by bonding particles of precious metals such as gold, platinum and silver in a vacuum, this gives it the beautiful iridescent sheen. Some people see it as a man made stone because of this process, however my view is that it has bonded two natural precious elements to create a...